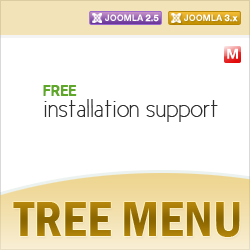 Features
2.5 & 3.X versions are included in the package.
Display your menu at sidebar with a very beautiful sliding effect.
Very Easy to use.
To avoid jquery conflict, we have added 3 options(You can disable the Jquery, Enable it on Head or Body).
Show Children --> Yes, No options.
Link On Parent --> Yes, No options.
4(Four) pre-built themes to suit your site template.(default, Gray, Red & Black Themes)
Option to control Sliding speed of the Tree Menu.(Slow, Medium & Fast)
15 fonts are added to this menu.
You can customize it in many ways like Font Family, Font Size, Font Color, Hover Color, Active Color etc.
It will add user navigation experience easy & Smooth.
You will love it.
Back-end